… Guyana aim for winning startIN WHAT is known as the Colonial Medical Insurance Women's Super50 Cup, Barbados will launch the defence of their title when they clash with a star-studded Leeward Islands team in one of three matches today at Everest Cricket Club (ECC) ground.In the other two matches, Guyana will take on Trinidad and Tobago at the Guyana National Stadium, Providence, while Jamaica will go up against the Windward Islands at the Georgetown Cricket Club ground.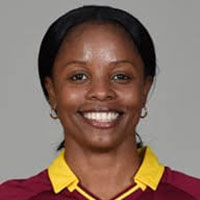 Merissa AguilleiraDespite the low-key build-up, the March 17 to April 4 championship holds special significance for players as they will be bidding to impress the regional selectors.This year's tournament, which will take the form of a double-format, featuring the Colonial Medical Insurance Women's Super50 Cup and the Women's T20 Blaze, will be played simultaneously.The Guyana National Stadium, Providence, Georgetown Cricket Club, Everest Cricket Club and Enmore grounds will host the Colonial Medical Insurance Women's Super50 Cup with three matches, scheduled for each day for five rounds.Meanwhile, all five rounds of the T20 Blaze will be played at the Guyana National Stadium, Providence.All four matches of the Colonial Medical Insurance Super50 Cup and the night match of each round of the T20 Blaze at the National Stadium will be streamed via www.windiescricket.com and on the WINDIES cricket YouTube channel.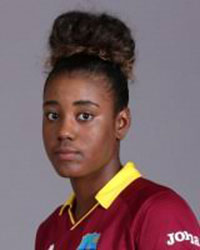 Hayley MatthewsBharat Mangru (coach) and Shemaine Campbelle (captain) of the host country expressed confidence of achieving a winning start, as Guyana seek their first title.Mangru told Chronicle Sport that the ladies were encamped since last Monday at the Chetram Singh Indoor Facility, located at LBI on the East Coast of Demerara. Their aim is to have adequate preparation leading up to the tournaments. They were engaged in various aspects of training – batting, bowling and fielding.Regarding the team's progress, the coach stated that the team comprises players from different parts of the country and the players were "gelling as a unit".The coach declared that the team is well-balanced with a number of match-winners. Mangru feels it is the best chance for the Guyanese to win both tournaments.In conclusion, Mangru, who is a qualified CWI Level-3 coach, said the clash against the Trinidadians will not be a walkover, adding that they are a well-oiled unit and play more cricket than any other team.On the other hand, T&T captain Merissa Aguilleria, said they are fully aware of Guyana's home advantage. However, she is optimistic of a winning start to the tournament.Further, Barbados captain Hayley Matthews told Chronicle Sport that they too are confident of defending their title.Matches bowl off at 09:30hrs at each venue.Team Guyana squad reads: Shemaine Campbelle (captain), Akaze Thompson (vice-captain), Tremayne Smartt, Erva Giddings, Sheneta Grimmond, Plaffiana Millington, Lashuna Toussaint, Shebika Gajnabi, Cherry Ann Frazer, Mandy Mangru, Kaysia Schultz, Melanie Henry, Lafona Gilgeous, and Afruica Gentle.Trinidad and Tobago team reads: Merissa Aguilleira (captain), Reniece Boyce (vice-captain), Anisa Mohammed, Britney Cooper, Lee Ann Kirby, Felicia Walters, Stacy Ann King, Shania Abdool, Samantha Bissoon, Caneisha Isaac, Rachel Vincent, Karishma Ramharack, Mikaela Jodhan, and Leandra Ramdeen.