HEIMRAJ Resaul and Jordan Beaton made it to their first Trophy Stall Doubles Men's final. They had a close call against Joshua Kalekeyzi and Viraj Sharma in the semi-finals.It was an unexpected fight as they lost the first set 5-7 but managed to regain their composure and take the other two sets 6-3, 6-3.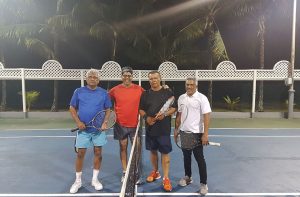 Steve Surujballi, Robin Singh, Godfrey Lowden and Anthony AmerallyThey squared off against the older and strategic combination of Philip Squires and Joseph DeJonge, who dismissed hard hitters Khalid Gobin and Dominic Fraser 6-2, 6-1.Squires and DeJonge proved formidable in the first set and secured an easy 6-1 lead but the tides turned in the second set to the settled youngsters who won 6-3.The deciding set was secured by the experienced Squires and DeJonge after serving up big serves and putting together a more comprehensive game plan to win it 6-3. This is the first time the pair have won the Men's Doubles.The veterans displayed the highest level of craft in the game. Steve Surujballi and Robin Singh faced off against the Berbician pair of Anthony Amerally and Godfrey Lowden in a crowd-pleasing match which had a little of everything. There were drop shots, slices that left the spectators and opponents stunned, crisp volley rallies and sportsmanship.Most of the games went to deuce and could have swung in either direction but Lowden and Amerally closed the first set 6-3. There was resurgence in the second set as Surujballi and Singh took a commanding 3-1 lead.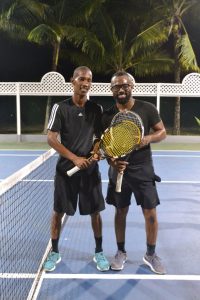 Men's winners Phillip Squires and Joseph DeJongeWhile serving to head to another break up, they were broken to remain at 3-2. Lowden and Amerally capitalised on this with a 6-4 win, crowning them the winners of the Trophy Stall Men's Over-45 Doubles.Action continues in the Ladies' and Mixed Doubles.